One of the major problems for our future is the ever growing number of people living on Earth. We are referring to this in several articles on this site. Below you can find first a graph about the population by geographical area and by year, starting in 1950 until the year 2050.
The second graph shows the population density by geographical area by year, i.e. the number of people living per square kilometre. Further down, we provide lists of the current and predicted population by country. Click on one of the links below to jump directly to a list or graph:
Data source is the U.S. Census Bureau, Population Division (http://www.census.gov/ipc/www/). Data last updated 08-24-2006.
World population by geographical area from 1950 to 2050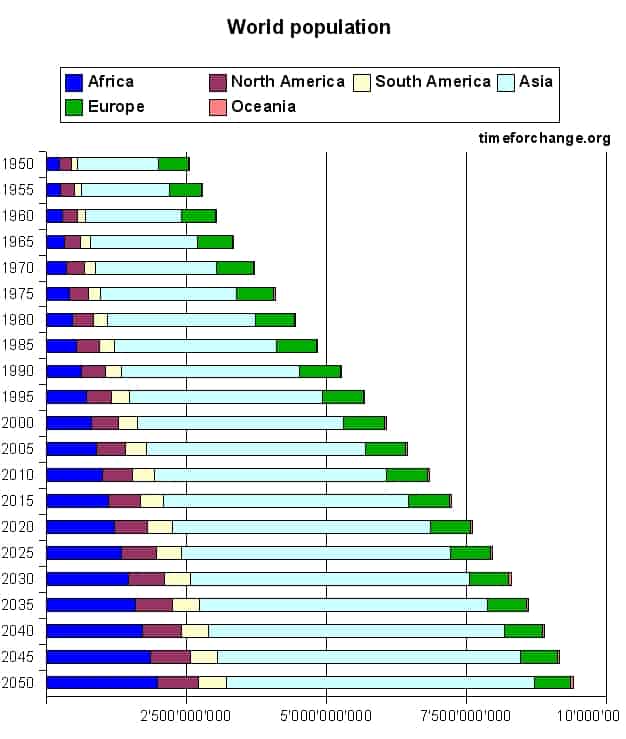 Population density by year and by geographical area: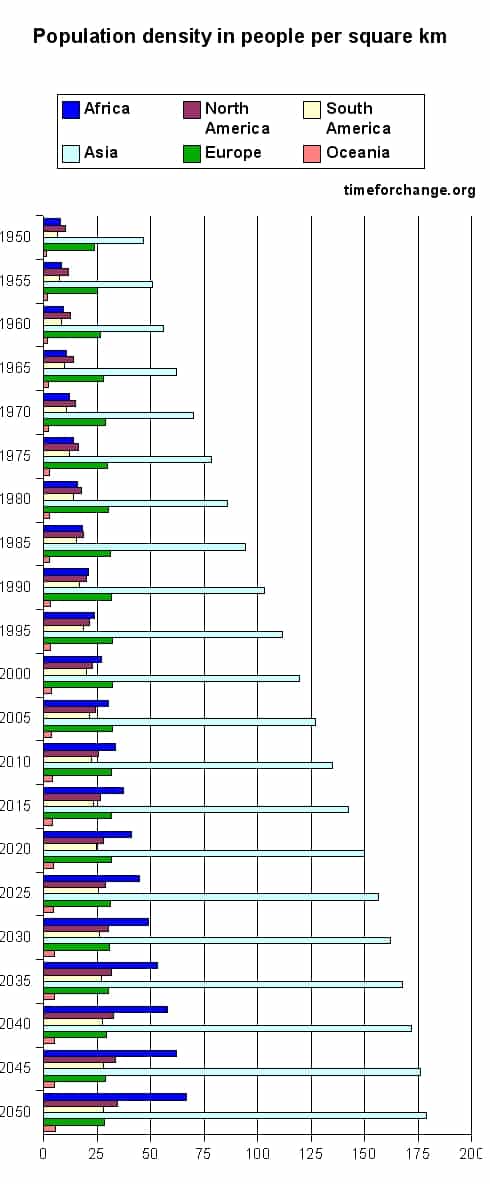 Population by country for 2007 and 2050 (alphabetical order)
| | | |
| --- | --- | --- |
| | 2007 | 2050 |
| Afghanistan | 31'889'923 | 81'933'479 |
| Albania | 3'600'523 | 4'016'945 |
| Algeria | 33'333'216 | 43'983'870 |
| American Samoa | 57'663 | 35'129 |
| Andorra | 71'822 | 69'129 |
| Angola | 12'263'596 | 24'746'652 |
| Anguilla | 13'677 | 15'921 |
| Antigua and Barbuda | 69'481 | 69'259 |
| Argentina | 40'301'927 | 48'740'060 |
| Armenia | 2'971'650 | 2'943'441 |
| Aruba | 72'194 | 69'990 |
| Australia | 20'434'176 | 24'175'783 |
| Austria | 8'199'783 | 7'520'950 |
| Azerbaijan | 8'120'247 | 9'955'428 |
| Bahamas, The | 305'655 | 324'052 |
| Bahrain | 708'573 | 973'412 |
| Bangladesh | 150'448'339 | 279'955'405 |
| Barbados | 280'946 | 274'523 |
| Belarus | 9'724'723 | 7'738'613 |
| Belgium | 10'392'226 | 9'882'599 |
| Belize | 294'385 | 541'734 |
| Benin | 8'078'314 | 16'356'458 |
| Bermuda | 66'163 | 66'025 |
| Bhutan | 2'327'849 | 4'653'447 |
| Bolivia | 9'119'152 | 13'772'819 |
| Bosnia and Herzegovina | 4'552'198 | 3'891'669 |
| Botswana | 1'639'131 | 1'411'662 |
| Brazil | 190'010'647 | 228'426'737 |
| Brunei | 386'511 | 600'998 |
| Bulgaria | 7'322'858 | 4'651'477 |
| Burkina Faso | 14'326'203 | 43'656'786 |
| Burma | 47'373'958 | 54'430'334 |
| Burundi | 8'390'505 | 22'852'556 |
| Cambodia | 14'131'858 | 25'089'909 |
| Cameroon | 18'060'382 | 34'908'839 |
| Canada | 33'390'141 | 41'429'579 |
| Cape Verde | 423'613 | 380'614 |
| Cayman Islands | 46'600 | 90'230 |
| Central African Republic | 4'369'038 | 6'502'151 |
| Chad | 10'238'807 | 29'547'665 |
| Chile | 16'284'741 | 19'244'843 |
| China | 1'321'851'888 | 1'424'161'948 |
| Colombia | 44'227'550 | 64'534'230 |
| Comoros | 710'960 | 1'835'099 |
| Congo (Brazzaville) | 3'800'610 | 9'618'358 |
| Congo (Kinshasa) | 64'606'759 | 183'177'415 |
| Cook Islands | 21'750 | 24'930 |
| Costa Rica | 4'133'884 | 5'696'700 |
| Cote d'Ivoire | 18'013'409 | 32'400'664 |
| Croatia | 4'493'312 | 3'864'201 |
| Cuba | 11'416'987 | 10'477'677 |
| Cyprus | 788'457 | 841'102 |
| Czech Republic | 10'228'744 | 8'540'221 |
| Denmark | 5'468'120 | 5'575'147 |
| Djibouti | 496'374 | 993'011 |
| Dominica | 68'925 | 81'961 |
| Dominican Republic | 9'365'818 | 14'657'962 |
| East Timor | 1'084'971 | 1'942'734 |
| Ecuador | 13'755'680 | 20'332'088 |
| Egypt | 80'264'543 | 126'920'512 |
| El Salvador | 6'939'688 | 12'039'149 |
| Equatorial Guinea | 551'201 | 1'063'071 |
| Eritrea | 4'906'585 | 10'164'076 |
| Estonia | 1'315'912 | 861'913 |
| Ethiopia | 76'511'887 | 144'716'331 |
| Faroe Islands | 47'511 | 53'050 |
| Fiji | 918'675 | 1'447'573 |
| Finland | 5'238'460 | 4'819'615 |
| France | 61'083'916 | 61'017'122 |
| French Guiana | 203'321 | 317'377 |
| French Polynesia | 278'633 | 390'581 |
| Gabon | 1'454'867 | 3'221'749 |
| Gambia, The | 1'688'359 | 4'068'861 |
| Gaza Strip | 1'482'405 | 4'209'026 |
| Georgia | 4'646'003 | 3'784'724 |
| Germany | 82'400'996 | 73'607'121 |
| Ghana | 22'931'299 | 38'735'638 |
| Gibraltar | 27'967 | 25'617 |
| Greece | 10'706'290 | 10'035'935 |
| Greenland | 56'344 | 56'644 |
| Grenada | 89'971 | 87'136 |
| Guadeloupe | 456'698 | 528'062 |
| Guam | 173'456 | 242'692 |
| Guatemala | 12'728'111 | 22'995'434 |
| Guernsey | 65'573 | 60'606 |
| Guinea | 9'947'814 | 28'713'509 |
| Guinea-Bissau | 1'472'041 | 2'895'666 |
| Guyana | 769'095 | 597'806 |
| Haiti | 8'706'497 | 19'807'275 |
| Honduras | 7'483'763 | 12'641'869 |
| Hong Kong S.A.R. | 6'980'412 | 6'172'725 |
| Hungary | 9'956'108 | 8'374'619 |
| Iceland | 301'931 | 350'922 |
| India | 1'129'866'154 | 1'807'878'574 |
| Indonesia | 234'693'997 | 313'020'847 |
| Iran | 65'397'521 | 81'490'039 |
| Iraq | 27'499'638 | 56'360'779 |
| Ireland | 4'109'086 | 5'396'215 |
| Isle of Man | 75'831 | 80'131 |
| Israel | 6'426'679 | 8'516'835 |
| Italy | 58'147'733 | 50'389'841 |
| Jamaica | 2'780'132 | 3'499'068 |
| Japan | 127'467'972 | 99'886'568 |
| Jersey | 91'321 | 84'077 |
| Jordan | 6'053'193 | 11'772'789 |
| Kazakhstan | 15'284'929 | 15'099'700 |
| Kenya | 36'913'721 | 65'175'864 |
| Kiribati | 107'817 | 235'342 |
| Korea, North | 23'301'725 | 26'363'688 |
| Korea, South | 49'044'790 | 45'224'224 |
| Kuwait | 2'505'559 | 6'374'800 |
| Kyrgyzstan | 5'284'149 | 8'237'623 |
| Laos | 6'521'998 | 13'176'153 |
| Latvia | 2'259'810 | 1'544'073 |
| Lebanon | 3'921'278 | 4'940'731 |
| Lesotho | 2'012'649 | 1'448'643 |
| Liberia | 3'193'942 | 7'072'402 |
| Libya | 6'036'914 | 10'817'176 |
| Liechtenstein | 34'247 | 35'776 |
| Lithuania | 3'575'439 | 2'787'516 |
| Luxembourg | 480'222 | 720'603 |
| Macau S.A.R. | 456'989 | 487'488 |
| Macedonia | 2'055'915 | 1'990'728 |
| Madagascar | 19'448'815 | 56'513'827 |
| Malawi | 13'603'181 | 29'820'957 |
| Malaysia | 24'821'286 | 43'122'397 |
| Maldives | 369'031 | 815'031 |
| Mali | 11'995'402 | 40'002'414 |
| Malta | 401'880 | 395'639 |
| Marshall Islands | 61'782 | 102'761 |
| Martinique | 439'202 | 478'627 |
| Mauritania | 3'270'065 | 8'635'801 |
| Mauritius | 1'250'882 | 1'451'156 |
| Mayotte | 208'807 | 592'627 |
| Mexico | 108'700'891 | 147'907'650 |
| Micronesia, Federated States of | 107'862 | 74'296 |
| Moldova | 4'320'490 | 3'620'416 |
| Monaco | 32'671 | 32'964 |
| Mongolia | 2'874'127 | 4'086'025 |
| Montenegro | 684'736 | 577'654 |
| Montserrat | 9'538 | 11'908 |
| Morocco | 33'757'175 | 50'871'553 |
| Mozambique | 20'905'585 | 41'842'274 |
| Namibia | 2'055'080 | 1'795'852 |
| Nauru | 13'528 | 22'696 |
| Nepal | 28'901'790 | 53'293'874 |
| Netherlands | 16'570'613 | 17'334'090 |
| Netherlands Antilles | 223'472 | 252'578 |
| New Caledonia | 221'943 | 290'682 |
| New Zealand | 4'115'771 | 4'842'397 |
| Nicaragua | 5'675'356 | 9'437'504 |
| Niger | 12'894'865 | 34'419'502 |
| Nigeria | 135'031'164 | 356'523'597 |
| Northern Mariana Islands | 84'546 | 143'132 |
| Norway | 4'627'926 | 4'966'385 |
| Oman | 3'204'897 | 8'337'734 |
| Pakistan | 169'270'617 | 294'995'104 |
| Palau | 20'842 | 26'300 |
| Panama | 3'242'173 | 5'038'122 |
| Papua New Guinea | 5'795'887 | 10'670'394 |
| Paraguay | 6'667'147 | 14'635'743 |
| Peru | 28'674'757 | 38'300'067 |
| Philippines | 91'077'287 | 147'630'852 |
| Poland | 38'518'241 | 32'084'570 |
| Portugal | 10'642'836 | 9'933'334 |
| Puerto Rico | 3'944'259 | 3'770'496 |
| Qatar | 907'229 | 1'239'216 |
| Reunion | 798'094 | 1'132'283 |
| Romania | 22'276'056 | 18'678'226 |
| Russia | 141'377'752 | 109'187'353 |
| Rwanda | 9'907'509 | 25'128'735 |
| Saint Helena | 7'543 | 7'247 |
| Saint Kitts and Nevis | 39'349 | 52'348 |
| Saint Lucia | 170'649 | 235'420 |
| Saint Pierre and Miquelon | 7'036 | 6'355 |
| Saint Vincent and the Grenadines | 118'149 | 92'335 |
| Samoa | 176'615 | 170'739 |
| San Marino | 29'615 | 35'335 |
| Sao Tome and Principe | 199'579 | 502'489 |
| Saudi Arabia | 27'601'038 | 49'706'851 |
| Senegal | 12'521'851 | 27'519'852 |
| Serbia | 10'150'265 | 9'274'767 |
| Seychelles | 81'895 | 89'713 |
| Sierra Leone | 6'144'562 | 13'998'936 |
| Singapore | 4'553'009 | 4'635'110 |
| Slovakia | 5'447'502 | 4'943'616 |
| Slovenia | 2'009'245 | 1'596'947 |
| Solomon Islands | 566'842 | 1'110'514 |
| Somalia | 9'118'773 | 25'499'605 |
| South Africa | 43'997'828 | 33'002'952 |
| Spain | 40'448'191 | 35'564'293 |
| Sri Lanka | 20'926'315 | 24'920'558 |
| Sudan | 42'292'929 | 84'192'309 |
| Suriname | 470'784 | 617'249 |
| Swaziland | 1'133'066 | 751'328 |
| Sweden | 9'031'088 | 9'084'788 |
| Switzerland | 7'554'661 | 7'296'092 |
| Syria | 19'314'747 | 34'437'235 |
| Taiwan | 23'174'294 | 23'203'650 |
| Tajikistan | 7'076'598 | 12'132'365 |
| Tanzania | 38'139'640 | 71'949'135 |
| Thailand | 65'068'149 | 69'268'817 |
| Togo | 5'701'579 | 14'714'623 |
| Tonga | 116'921 | 188'340 |
| Trinidad and Tobago | 1'056'608 | 622'011 |
| Tunisia | 10'276'158 | 12'462'798 |
| Turkey | 71'158'647 | 86'473'786 |
| Turkmenistan | 5'136'262 | 9'626'193 |
| Turks and Caicos Islands | 21'746 | 42'384 |
| Tuvalu | 11'992 | 20'018 |
| Uganda | 30'262'610 | 128'007'514 |
| Ukraine | 46'299'862 | 33'573'842 |
| United Arab Emirates | 2'642'566 | 3'696'962 |
| United Kingdom | 60'776'238 | 63'977'435 |
| United States | 301'139'947 | 420'080'587 |
| Uruguay | 3'447'496 | 3'728'264 |
| Uzbekistan | 27'780'059 | 48'597'111 |
| Vanuatu | 211'971 | 310'486 |
| Venezuela | 26'084'662 | 37'106'394 |
| Vietnam | 85'262'356 | 107'772'641 |
| Virgin Islands | 108'448 | 103'303 |
| Virgin Islands, British | 23'552 | 34'038 |
| Wallis and Futuna | 16'309 | 20'434 |
| West Bank | 2'535'927 | 5'580'321 |
| Western Sahara | 382'617 | 996'674 |
| Yemen | 22'211'743 | 71'119'251 |
| Zambia | 11'477'447 | 18'435'053 |
| Zimbabwe | 12'311'143 | 12'221'257 |
Population by country for 2007 and 2050 (ordered by population in 2050)
| | | |
| --- | --- | --- |
| | 2007 | 2050 |
| India | 1'129'866'154 | 1'807'878'574 |
| China | 1'321'851'888 | 1'424'161'948 |
| United States | 301'139'947 | 420'080'587 |
| Nigeria | 135'031'164 | 356'523'597 |
| Indonesia | 234'693'997 | 313'020'847 |
| Pakistan | 169'270'617 | 294'995'104 |
| Bangladesh | 150'448'339 | 279'955'405 |
| Brazil | 190'010'647 | 228'426'737 |
| Congo (Kinshasa) | 64'606'759 | 183'177'415 |
| Mexico | 108'700'891 | 147'907'650 |
| Philippines | 91'077'287 | 147'630'852 |
| Ethiopia | 76'511'887 | 144'716'331 |
| Uganda | 30'262'610 | 128'007'514 |
| Egypt | 80'264'543 | 126'920'512 |
| Russia | 141'377'752 | 109'187'353 |
| Vietnam | 85'262'356 | 107'772'641 |
| Japan | 127'467'972 | 99'886'568 |
| Turkey | 71'158'647 | 86'473'786 |
| Sudan | 42'292'929 | 84'192'309 |
| Afghanistan | 31'889'923 | 81'933'479 |
| Iran | 65'397'521 | 81'490'039 |
| Germany | 82'400'996 | 73'607'121 |
| Tanzania | 38'139'640 | 71'949'135 |
| Yemen | 22'211'743 | 71'119'251 |
| Thailand | 65'068'149 | 69'268'817 |
| Kenya | 36'913'721 | 65'175'864 |
| Colombia | 44'227'550 | 64'534'230 |
| United Kingdom | 60'776'238 | 63'977'435 |
| France | 61'083'916 | 61'017'122 |
| Madagascar | 19'448'815 | 56'513'827 |
| Iraq | 27'499'638 | 56'360'779 |
| Burma | 47'373'958 | 54'430'334 |
| Nepal | 28'901'790 | 53'293'874 |
| Morocco | 33'757'175 | 50'871'553 |
| Italy | 58'147'733 | 50'389'841 |
| Saudi Arabia | 27'601'038 | 49'706'851 |
| Argentina | 40'301'927 | 48'740'060 |
| Uzbekistan | 27'780'059 | 48'597'111 |
| Korea, South | 49'044'790 | 45'224'224 |
| Algeria | 33'333'216 | 43'983'870 |
| Burkina Faso | 14'326'203 | 43'656'786 |
| Malaysia | 24'821'286 | 43'122'397 |
| Mozambique | 20'905'585 | 41'842'274 |
| Canada | 33'390'141 | 41'429'579 |
| Mali | 11'995'402 | 40'002'414 |
| Ghana | 22'931'299 | 38'735'638 |
| Peru | 28'674'757 | 38'300'067 |
| Venezuela | 26'084'662 | 37'106'394 |
| Spain | 40'448'191 | 35'564'293 |
| Cameroon | 18'060'382 | 34'908'839 |
| Syria | 19'314'747 | 34'437'235 |
| Niger | 12'894'865 | 34'419'502 |
| Ukraine | 46'299'862 | 33'573'842 |
| South Africa | 43'997'828 | 33'002'952 |
| Cote d'Ivoire | 18'013'409 | 32'400'664 |
| Poland | 38'518'241 | 32'084'570 |
| Malawi | 13'603'181 | 29'820'957 |
| Chad | 10'238'807 | 29'547'665 |
| Guinea | 9'947'814 | 28'713'509 |
| Senegal | 12'521'851 | 27'519'852 |
| Korea, North | 23'301'725 | 26'363'688 |
| Somalia | 9'118'773 | 25'499'605 |
| Rwanda | 9'907'509 | 25'128'735 |
| Cambodia | 14'131'858 | 25'089'909 |
| Sri Lanka | 20'926'315 | 24'920'558 |
| Angola | 12'263'596 | 24'746'652 |
| Australia | 20'434'176 | 24'175'783 |
| Taiwan | 23'174'294 | 23'203'650 |
| Guatemala | 12'728'111 | 22'995'434 |
| Burundi | 8'390'505 | 22'852'556 |
| Ecuador | 13'755'680 | 20'332'088 |
| Haiti | 8'706'497 | 19'807'275 |
| Chile | 16'284'741 | 19'244'843 |
| Romania | 22'276'056 | 18'678'226 |
| Zambia | 11'477'447 | 18'435'053 |
| Netherlands | 16'570'613 | 17'334'090 |
| Benin | 8'078'314 | 16'356'458 |
| Kazakhstan | 15'284'929 | 15'099'700 |
| Togo | 5'701'579 | 14'714'623 |
| Dominican Republic | 9'365'818 | 14'657'962 |
| Paraguay | 6'667'147 | 14'635'743 |
| Sierra Leone | 6'144'562 | 13'998'936 |
| Bolivia | 9'119'152 | 13'772'819 |
| Laos | 6'521'998 | 13'176'153 |
| Honduras | 7'483'763 | 12'641'869 |
| Tunisia | 10'276'158 | 12'462'798 |
| Zimbabwe | 12'311'143 | 12'221'257 |
| Tajikistan | 7'076'598 | 12'132'365 |
| El Salvador | 6'939'688 | 12'039'149 |
| Jordan | 6'053'193 | 11'772'789 |
| Libya | 6'036'914 | 10'817'176 |
| Papua New Guinea | 5'795'887 | 10'670'394 |
| Cuba | 11'416'987 | 10'477'677 |
| Eritrea | 4'906'585 | 10'164'076 |
| Greece | 10'706'290 | 10'035'935 |
| Azerbaijan | 8'120'247 | 9'955'428 |
| Portugal | 10'642'836 | 9'933'334 |
| Belgium | 10'392'226 | 9'882'599 |
| Turkmenistan | 5'136'262 | 9'626'193 |
| Congo (Brazzaville) | 3'800'610 | 9'618'358 |
| Nicaragua | 5'675'356 | 9'437'504 |
| Serbia | 10'150'265 | 9'274'767 |
| Sweden | 9'031'088 | 9'084'788 |
| Mauritania | 3'270'065 | 8'635'801 |
| Czech Republic | 10'228'744 | 8'540'221 |
| Israel | 6'426'679 | 8'516'835 |
| Hungary | 9'956'108 | 8'374'619 |
| Oman | 3'204'897 | 8'337'734 |
| Kyrgyzstan | 5'284'149 | 8'237'623 |
| Belarus | 9'724'723 | 7'738'613 |
| Austria | 8'199'783 | 7'520'950 |
| Switzerland | 7'554'661 | 7'296'092 |
| Liberia | 3'193'942 | 7'072'402 |
| Central African Republic | 4'369'038 | 6'502'151 |
| Kuwait | 2'505'559 | 6'374'800 |
| Hong Kong S.A.R. | 6'980'412 | 6'172'725 |
| Costa Rica | 4'133'884 | 5'696'700 |
| West Bank | 2'535'927 | 5'580'321 |
| Denmark | 5'468'120 | 5'575'147 |
| Ireland | 4'109'086 | 5'396'215 |
| Panama | 3'242'173 | 5'038'122 |
| Norway | 4'627'926 | 4'966'385 |
| Slovakia | 5'447'502 | 4'943'616 |
| Lebanon | 3'921'278 | 4'940'731 |
| New Zealand | 4'115'771 | 4'842'397 |
| Finland | 5'238'460 | 4'819'615 |
| Bhutan | 2'327'849 | 4'653'447 |
| Bulgaria | 7'322'858 | 4'651'477 |
| Singapore | 4'553'009 | 4'635'110 |
| Gaza Strip | 1'482'405 | 4'209'026 |
| Mongolia | 2'874'127 | 4'086'025 |
| Gambia, The | 1'688'359 | 4'068'861 |
| Albania | 3'600'523 | 4'016'945 |
| Bosnia and Herzegovina | 4'552'198 | 3'891'669 |
| Croatia | 4'493'312 | 3'864'201 |
| Georgia | 4'646'003 | 3'784'724 |
| Puerto Rico | 3'944'259 | 3'770'496 |
| Uruguay | 3'447'496 | 3'728'264 |
| United Arab Emirates | 2'642'566 | 3'696'962 |
| Moldova | 4'320'490 | 3'620'416 |
| Jamaica | 2'780'132 | 3'499'068 |
| Gabon | 1'454'867 | 3'221'749 |
| Armenia | 2'971'650 | 2'943'441 |
| Guinea-Bissau | 1'472'041 | 2'895'666 |
| Lithuania | 3'575'439 | 2'787'516 |
| Macedonia | 2'055'915 | 1'990'728 |
| East Timor | 1'084'971 | 1'942'734 |
| Comoros | 710'960 | 1'835'099 |
| Namibia | 2'055'080 | 1'795'852 |
| Slovenia | 2'009'245 | 1'596'947 |
| Latvia | 2'259'810 | 1'544'073 |
| Mauritius | 1'250'882 | 1'451'156 |
| Lesotho | 2'012'649 | 1'448'643 |
| Fiji | 918'675 | 1'447'573 |
| Botswana | 1'639'131 | 1'411'662 |
| Qatar | 907'229 | 1'239'216 |
| Reunion | 798'094 | 1'132'283 |
| Solomon Islands | 566'842 | 1'110'514 |
| Equatorial Guinea | 551'201 | 1'063'071 |
| Western Sahara | 382'617 | 996'674 |
| Djibouti | 496'374 | 993'011 |
| Bahrain | 708'573 | 973'412 |
| Estonia | 1'315'912 | 861'913 |
| Cyprus | 788'457 | 841'102 |
| Maldives | 369'031 | 815'031 |
| Swaziland | 1'133'066 | 751'328 |
| Luxembourg | 480'222 | 720'603 |
| Trinidad and Tobago | 1'056'608 | 622'011 |
| Suriname | 470'784 | 617'249 |
| Brunei | 386'511 | 600'998 |
| Guyana | 769'095 | 597'806 |
| Mayotte | 208'807 | 592'627 |
| Montenegro | 684'736 | 577'654 |
| Belize | 294'385 | 541'734 |
| Guadeloupe | 456'698 | 528'062 |
| Sao Tome and Principe | 199'579 | 502'489 |
| Macau S.A.R. | 456'989 | 487'488 |
| Martinique | 439'202 | 478'627 |
| Malta | 401'880 | 395'639 |
| French Polynesia | 278'633 | 390'581 |
| Cape Verde | 423'613 | 380'614 |
| Iceland | 301'931 | 350'922 |
| Bahamas, The | 305'655 | 324'052 |
| French Guiana | 203'321 | 317'377 |
| Vanuatu | 211'971 | 310'486 |
| New Caledonia | 221'943 | 290'682 |
| Barbados | 280'946 | 274'523 |
| Netherlands Antilles | 223'472 | 252'578 |
| Guam | 173'456 | 242'692 |
| Saint Lucia | 170'649 | 235'420 |
| Kiribati | 107'817 | 235'342 |
| Tonga | 116'921 | 188'340 |
| Samoa | 176'615 | 170'739 |
| Northern Mariana Islands | 84'546 | 143'132 |
| Virgin Islands | 108'448 | 103'303 |
| Marshall Islands | 61'782 | 102'761 |
| Saint Vincent and the Grenadines | 118'149 | 92'335 |
| Cayman Islands | 46'600 | 90'230 |
| Seychelles | 81'895 | 89'713 |
| Grenada | 89'971 | 87'136 |
| Jersey | 91'321 | 84'077 |
| Dominica | 68'925 | 81'961 |
| Isle of Man | 75'831 | 80'131 |
| Micronesia, Federated States of | 107'862 | 74'296 |
| Aruba | 72'194 | 69'990 |
| Antigua and Barbuda | 69'481 | 69'259 |
| Andorra | 71'822 | 69'129 |
| Bermuda | 66'163 | 66'025 |
| Guernsey | 65'573 | 60'606 |
| Greenland | 56'344 | 56'644 |
| Faroe Islands | 47'511 | 53'050 |
| Saint Kitts and Nevis | 39'349 | 52'348 |
| Turks and Caicos Islands | 21'746 | 42'384 |
| Liechtenstein | 34'247 | 35'776 |
| San Marino | 29'615 | 35'335 |
| American Samoa | 57'663 | 35'129 |
| Virgin Islands, British | 23'552 | 34'038 |
| Monaco | 32'671 | 32'964 |
| Palau | 20'842 | 26'300 |
| Gibraltar | 27'967 | 25'617 |
| Cook Islands | 21'750 | 24'930 |
| Nauru | 13'528 | 22'696 |
| Wallis and Futuna | 16'309 | 20'434 |
| Tuvalu | 11'992 | 20'018 |
| Anguilla | 13'677 | 15'921 |
| Montserrat | 9'538 | 11'908 |
| Saint Helena | 7'543 | 7'247 |
| Saint Pierre and Miquelon | 7'036 | 6'355 |